Portrait layout is automagically enabled on portrait format monitors and windows, but you can also from Hauptwerk's menus select   >View > Console Window 2 / 3 / 4 to open up extra Windows. If you resize those windows to be higher than they are wide, the portrait versions will automatically be shown. If you size them back to landscape format they will show the Landscape Views. If you have two Portrait monitors, typically one on each side of your keyboards, you can show the Left and Right Portrait Jambs on each side of your console. All Views that appear without showing virtual keyboards (the Portrait and Landscape Jamb Views) will also show a small green indicator above the Division Name plates, indicating Midi activity. Clicking on the reduced size images below will open a new browser Window showing the full size image.
Landscape Console View
High resolution details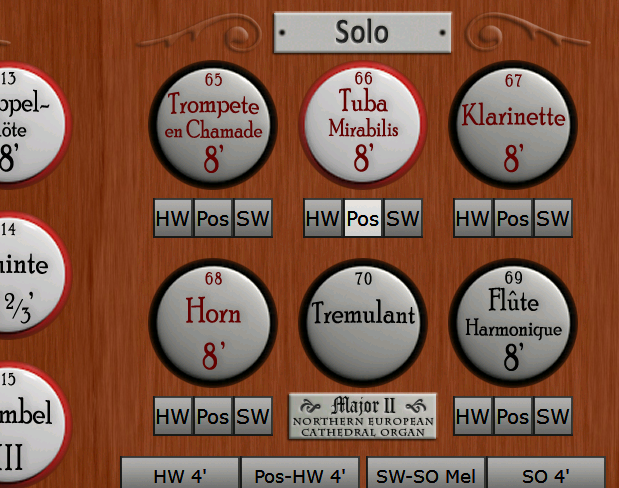 Above is a section of the top image at its highest resolution. As you can see there is a very high level of detail in the graphics, and since Hauptwerk scales and zooms the images related to the monitor resolution in use, the quality above will render the screen images with a high degree of details also on very high resolution monitors.
Fixed and floating Solo division
Also notice that the  Solo Division ranks shown above are both fixed (for the 4th manual) but also floating, so all Solo ranks can be used individually from other divisions by selecting the rectangular stop buttons below the main round Stop button. This allows for an even higher degree of flexibility than having to resort to division couplers only, and effectively increases the other divisions number of  ranks with 5 each. The Solo division is partly enclosed. The Klarinette, Horn and the Flûte Harmonique can all be adjusted with the Solo Swell controller and Tremulant while the Trompete and the Tuba Mirabilis remain unaffected.
Hauptwerk / Positiv  lower manual swap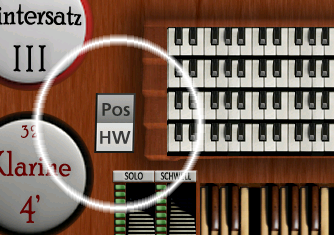 You can select whether the Hauptwerk or the Positiv will be 1st or 2nd manual by pressing the dedicated button besides the 1st and 2nd manual image. This allows for quickly changing lower manuals depending on your preferences or for special literature that expects one or the other without resorting to changing your complete setup.
Landscape Left and Right Jamb
Crescendo Setter (always in Landscape format)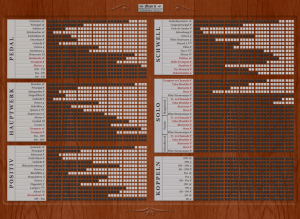 Portrait Left and Right Jamb