Portrait layout is automagically enabled on portrait format monitors and windows, but you can also from Hauptwerk's menus select   >View > Console Window 2 / 3 / 4 to open up extra Windows. If you size those windows to be higher than they are wide, the portrait versions will automatically be shown. If you size them back to landscape format they will show the Landscape Views. If you have two Portrait monitors, typically one on each side of your keyboards, you can show the Left and Right Portrait Jambs on each side of your console.
All Views that appears without showing virtual keyboards (the Portrait and Landscape Jamb Views) will also show a small green indicator above the Division Name plates, indicating Midi activity.
Clicking on the miniature images below will open a new Window showing a full size image.
Landscape Console View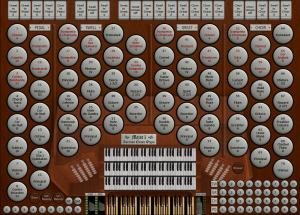 Landscape Left and Right Jamb
Crescendo Setter (always in Landscape format)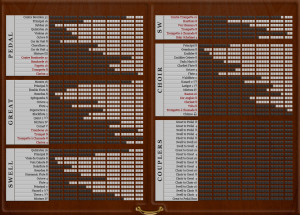 Portrait Console View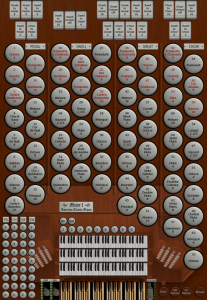 Portrait Left and Right Jamb